Elvis Presley's Graceland home will be inherited by Lisa Marie's 3 daughters after her death
Elvis Presley's sprawling Graceland estate is set to be inherited by Lisa Marie's three daughters, following her tragic death almost one week ago on January 13.
The 54-year-old was rushed to hospital after suffering a suspected cardiac arrest, and it was reported that her family signed a do not resuscitate order just before her second heart attack. She leaves behind three daughters – Riley Keough, 33, and 14-year-old twins Harper and Finley Lockwood.
Lisa Marie Presley was last seen publicly just days before her death, as she attended the Golden Globes to support the cast and crew of Elvis, a critically acclaimed biopic based on the late musician's life. Austin Butler, who portrayed the 'Jailhouse Rock' singer, paid a sweet tribute to Lisa Marie and her mother Priscilla Presley, who was also in attendance.
Several days before the awards ceremony, Lisa Marie had taken a trip to Memphis, Tennessee, to visit Graceland and remember her father on what would have been his 88th birthday on January 8.
It has since been confirmed that the mom-of-four will be buried on the property – joining her son Benjamin, 27, who died by suicide in 2020, her father Elvis, his parents Vernon and Gladys, and his grandmother Minnie Mae.
As well as this, the property – which was bought by Elvis in 1957 and is now a popular tourist destination in Memphis – is set to be inherited by Riley, Harper, and Finley. Prior to her death, Lisa Marie was the sole heir to the estate.
In the summer of last year, Priscilla, 77, was interviewed at Graceland by Architectural Digest, as she spoke about its significance to not only the Presley family but to his fans across the globe and even the city of Memphis.
"After returning from late nights at the movies, Elvis and I would go there, and he would spend hours singing gospel music," she recalled, before adding that the dining room was special because "there was nothing but laughter. So much so, there were times that Elvis would be on the floor laughing to tears."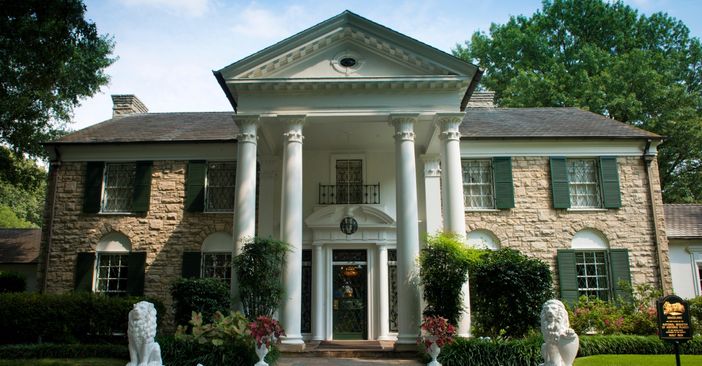 Graceland was purchased by Elvis in 1957 and is set to be inherited by his three granddaughters. Credit: JAMES LANGE / Alamy
Elvis – who purchased the property for $105,000 aged just 22 – took it upon himself to enlist the help of an interior designer to create the home of his dreams. His former wife said it was his individuality and uniqueness that earned him the legion of fans who still follow him.
"Elvis didn't fit the mold, he marched to his own drum. But when people walk in that front door there is a reverence, respect, a quietness. It's as if his spirit is there. They come back time after time to experience… him," she said.
Graceland has been an Elvis museum since 1982 and was declared a National Historic Landmark in 2006, attracting more than 650,000 visitors annually, and in a typical year earns a cool $10 million, per Style Caster.